There are many ways to get started and learn with WordPress. The first of these methods is to use WordPress in everyday life. Eventually, plugins and themes will become more understandable subjects.
However, it is not just the external aspects of WordPress that have made this platform so good. In fact, to really understand WordPress, you need to dig deep into the core of WordPress as an open source project, especially if you want to build a custom website.
This is a brief description of WordPress features, and every function has a brief description of its features. In general, working with WordPress is not that difficult.
Most functions have descriptive names and usage. However, in general, developing a theme requires some practice. Best of all, you need to learn how to use CSS3 and HTML5 correctly for best results.
When talking about starter themes, there are several ways starter themes can help. The first of those methods is to provide a skeleton template that allows you to build and design anything.
The second way is to use the "starter framework". Framework themes are more optimized for rapid development and often use a drag-and-drop interface. Of course, using drag and drop eliminates the need for coding, but that's exactly what you need for theme development.
What is a WordPress Starter Theme?
wordpress starter themes are designed to have little or no styling to appeal to developers and other advanced users. These users want the most basic layout theme so that they can add their own code to create a completely custom look for the site without having to create the theme from scratch. These alternatives to the parent theme are called starter themes.
The starter theme is basically a blank framework that can do some of the tedious work and reduce the work in the early stages. It contains the basic code to enable flight. To be more precise, it is a skeleton that includes a grid system, among other basic style options, CSS resets, and some other options that implement basic functionality.
Note that the getting started topic does not contain everything you need, so you should carefully consider the options you need before starting work. For example, there are snippets that need to be reproduced according to developer rules because the basis is someone else's work and you may not get the results you want.
Also, to fully understand and take full advantage of the possibilities of the starter theme, you should spend some time understanding the content of the starter theme.
Underscores – WordPress Starter Theme
Underscore must be one of the most complete introductory themes, and it will undoubtedly help if it is provided by the WordPress team itself. In addition, hundreds of developers have provided their own ideas and features for this beautiful starter theme.
As a theme, it is intended to be used only for the purpose of learning how to build your own theme! Countless WordPress enthusiasts are using Underscores to create free premium themes that you can be the next person.
The lack of CSS in this theme means you get the additional freedom to create your own stylesheet. First, you can download Underscores directly from GitHub or use the official website to generate a theme with your own specific name and description. Also available in SASS configuration.
Sage- WordPress Starter Theme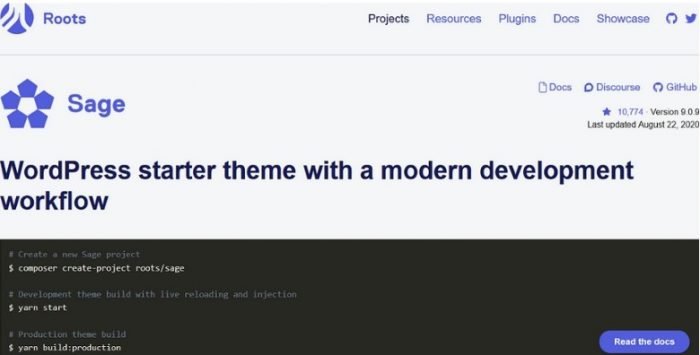 Sage is a WordPress starter theme with modern development workflow.. A sophisticated front-end workflow allows developers to check for JavaScript errors, optimize images, sync browser tests, and more.
Roots focuses on Sage for fast and smooth workflows. It moves to features like SASS stylesheets, automated JavaScript error checking, and image optimization on the fly. You can use a compiler such as Bower to install third-party packages directly into the core of your theme.
JointsWP- WordPress Starter Theme

JointsWP is a blank WordPress theme built with Foundation 6, which provides you with all the features and flexibility you need to build a complex, mobile-friendly website from scratch.
This theme is a starting point, not a final product. You don't have to use child themes. It's probably not full of shortcodes that you never use, or functions that you just delete.
Use the included Gulp settings to save time and modernize your workflow. With a few commands, you can quickly compile Sass files, shrink JS files, watch for file changes, and much more.
Bones- WordPress Starter Theme
Bones is a solid foundation for starting a WordPress project.It's entirely up to you.Bones is structured to be mobile first using deep HTML5 templates, so it can be widely applied to modern themes until new versions of HTML emerge. And that doesn't happen right away. If you are planning to create a new theme, the main checklist will include design responsiveness.
This area of website speed is where Bones shines as a good choice for projects of all sizes. Again, starter themes like Bones are great for jumping right into your WordPress development scene. You can take your coding skills to the next level by understanding how a WordPress website actually works.
Generic- WordPress Starter Theme
Generic is a responsive WordPress starter theme that is search engine optimized and jQuery enabled. A theme specially created as a tool for virtually building a client site from scratch or building and sending your own theme. Updated to reflect new changes in theme review requirements, making the process much easier with higher levels of success.
Beans- WordPress Starter Theme
Beans is a WordPress entry framework with an active community of developers who are keen to develop and design their own websites. The powerful features of this starter theme are perfect for bootstrapping WordPress sites for blogs, startups, and all-round business projects. The best thing about Beans is that it can be used by beginners as well as professionals.
The Beans website lets you preview the Showcase website, which is the actual website built with beans. You can also download ready-made themes built with Beans. Best of all, there is a section called Code Snippets. This is a collection of snippets for working with specific parts of the theme.
start- WordPress Starter Theme
StartWP is the most user-friendly WordPress theme. StartWP is fully compatible with the Gutenberg editor. It will help you create amazing websites easier and faster than ever. The most organized customizer to date that feels like a page builder. Improve site performance, bloat, no framework, no JQuery. This is a multi-purpose theme compatible with most page builders.
Ultimatum- WordPress Starter Theme
Since the release of plugins such as WP Bakery Page Builder, more and more brands are focusing on drag and drop style themes. Ultimatum is a great example of how to use drag and drop in theme development without any prior coding knowledge.
The core of the Ultimatum framework is based on four things. Drag-and-drop layout builder, premium extensions, developer-friendly codebase, easy core updates. Over 100,000 websites use Ultimatum.
Creating a new website design is like writing a new post. Except Ultimatum is mostly drag and drop based. Select the overall grid size and start creating the layout, adding new elements. This is a plugin system that allows you to add new content, elements and features to your site with zero effort.
UnderStrap- WordPress Starter Theme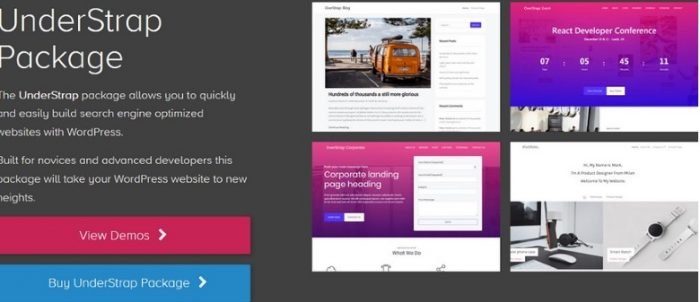 The underlying UnderStrap framework is a combination of Underscore PHP and JavaScript dynamic files and Bootstrap static files.. All CSS calls are combined into a single file and further optimized to optimize web performance.
The Font Awesome integration adds hundreds of great font icons that you can style with CSS. In addition, UnderStrap is compatible with Jetpack, WooCommerce and Contact Form 7. Best of all, it's as easy to use as UnderScore. The main difference is the style used by this particular starting theme.
HTML5 Blank- WordPress Starter Theme
As the name suggests, this WordPress Starter Theme has an empty template and is created in HTML5. Themes provide support throughout the development phase. The very clean layout makes the code very readable.
Gantry- WordPress Starter Theme
Gantry is another starter framework that prioritizes layout construction and coding. The birth of Rocket Theme. Maintaining custom functions for multiple CMS platforms has proven difficult without a set framework. As a result, WordPress, Joomla, and Grav developers have access to the gantry. The framework specifically prioritizes the use of layout managers.
In addition to its flexible framework capabilities, Gantry Tools can be converted to a personalized content management system based on an existing content management system. You can manage everything as if you were writing your own code. Start by using a skeleton theme that allows you to build new layouts.
CyberChimps- WordPress Starter Theme
Free drag and drop HTML5 Responsive WordPress Starter Theme with Cyber Chimps WordPress Theme with Twitter Load and Responsive Touch Theme Options. Cyber Chimps Free is compatible with gutenberg, with visible edit links in the customizer preview.
DIYthemes- WordPress Starter Theme
The theme of DIY themes papers has been around for many years and continues to play an important role in the startup theme market. Coding is a valuable skill to learn, but it takes years of practice to become proficient at writing reliable code. As a result, themes like theses can provide a more creative way to tackle design issues. Recently, theses have moved from core to using skin extensions.
You can use the visual editor to control the results of your design. Plus, you don't have to experience the hassle of hiring a web developer! If you are future-oriented and have business experience, saving development costs can prove to be a big advantage
Components – WordPress Starter Theme
The components are great for freelance designers who are constantly creating new sites in the above categories. For simpler projects, rather than always using underscores, you can generate an overall layout that is ready for styling. Above all, the aforementioned designs generated by the components are completely responsive and mobile ready
However, we have noticed that part of the project is over-designed. The original idea is still solid. You can do more by creating a starting theme from building blocks. But I couldn't achieve my goal, so I'm trying to drop the component and bring some of what I learned there into the underscore.
TemplateToaster- WordPress Starter Theme
TemplateToaster is unique in that it is the actual software for designing WordPress layouts. Although it doesn't really show up much, TemplateToaster can alleviate some of the productivity issues you are having if your desktop task is your job.
The best features of TemplateToaster are responsive web design, cross-browser support, and drag-and-drop website construction interface. Certainly a rare approach, but TemplateToaster includes many useful features.
Noteblog- WordPress Starter Theme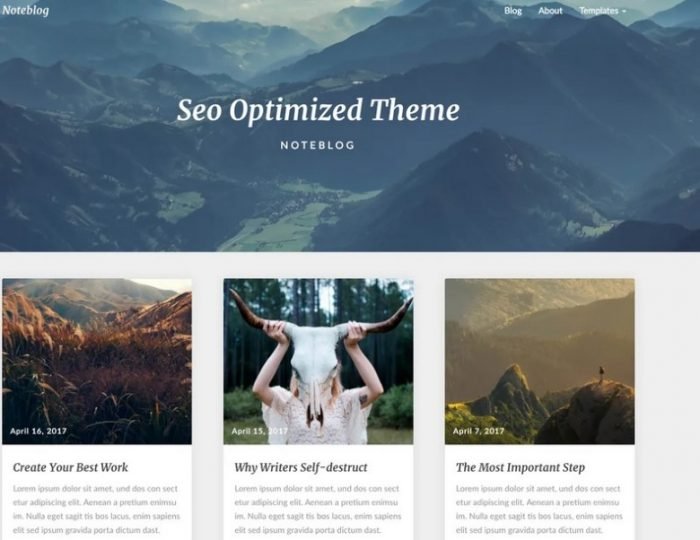 Noteblog is well optimized and one of the best free WordPress themes for writers and journalists. It's made easy for beginners with a fairly decent interface.
So fast load times and fast page speeds are a big part of SEO friendly themes. Whether you are looking for food, fashion, photography, travel, or a business portfolio, the minimal article theme is for you. Companies and agencies can design creative and elegant landing pages.
Unyson- WordPress Starter Theme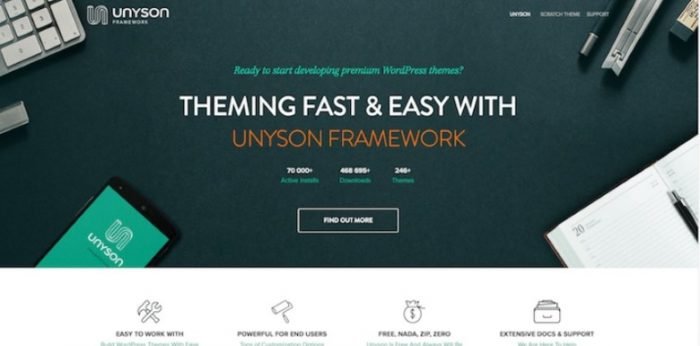 Unyson comes with a full-fledged drag and drop page builder that allows users to create countless pages with content and media shortcodes.Unyson is a solid product that can support the development of real premium themes. And indeed, many premium WordPress themes use the Unyson framework as their back-end solution.
It's likely to be many at once, but more important is the individual designer's taste. A good framework should cover a wide range of features, customization options, and custom features. Unyson then uses extensions to manage this requirement. Basically, extensions are the people who make real money in designing your theme.
PageLines- WordPress Starter Theme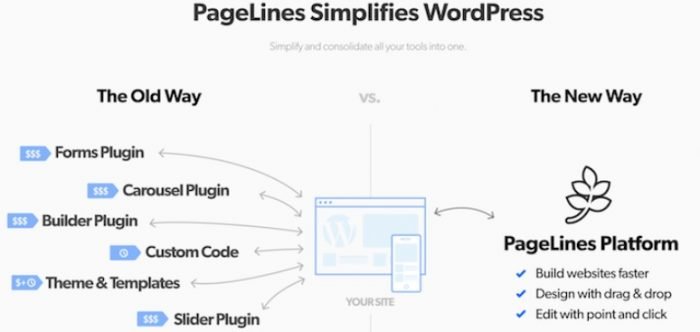 Choosing a website theme is probably the most important decision you can make. Elements like content are, of course, important, but nothing beats the design of a solid website that gives visitors a visual statement.
Therefore, he must spend his time and energy to find a suitable theme, framework, or starter theme. And while we can recommend all starter themes in the world, the process of choosing one involves taste, personality, and business mission.
Sure, it might be a little confusing about the user interface at first, but in the end you'll understand how easy it is to add and remove new ones.Unlike other similar starter frameworks, the PageLines platform is intended for both programmers and people without programming knowledge. PageLine is built on the principles of mobile first, drag and drop, performance optimization, a developer friendly environment, and support for external extensions.
StudioPress Genesis- WordPress Starter Theme
StudioPress's Genesis Framework must be the most well-known framework in the industry. The main reason for this is that Genesis started right after WordPress itself was released, and Genesis' advanced features quickly attracted a significant and loyal customer base. Today, the development of Genesis continues to flourish, while other frameworks try to dominate the saturated market.
The Genesis theme is an affordable solution for bloggers and businesses planning to use the same design layout for the next few years. In addition to being highly mobile, the Genesis theme offers multiple ways to customize and manage site options. In addition, you can design your page using your own template.
Responsive- WordPress Starter Theme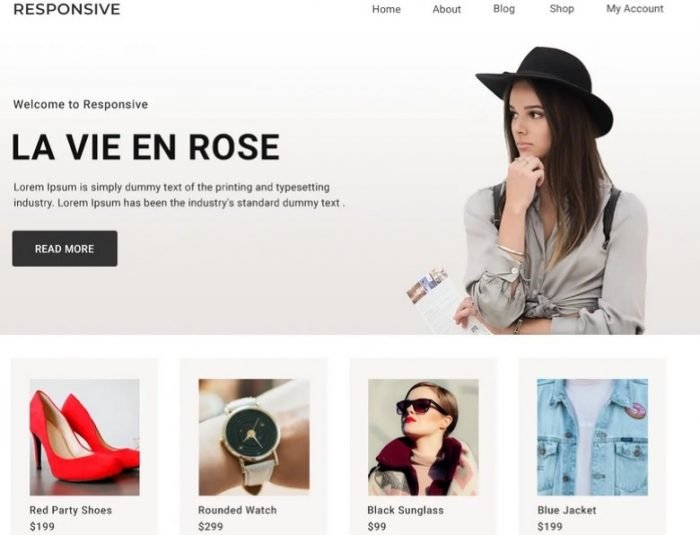 This starter theme provides a flexible framework with a flexible grid that easily adapts your WordPress website to any device. The theme includes 9 page templates, 6 template layouts, 11 widget areas, 4 menu positions and more.
Backbone- WordPress Starter Theme
The most important thing about the starter theme is that it has a very clean design and modern features. However, the customization options must be unlimited. This prevents developers from being disappointed when diving in the pool. The backbone offers an extraordinary level of flexibility and control, so you can build a fully featured website in half the time you spend on other themes.
Tonik- WordPress Starter Theme
Tonik is an expert starter pack for professionals. Not only for the purpose, but by including some helper functions, it gives developers the opportunity to go beyond the basic template.
Due to GitHub's extensive and simple documentation, Tonik offers unique features including the use of PHP namespaces, centralized theme configuration, a simple theme service container, an autoloader suitable for child themes, and an optional command line interface CLI is included. In short, Tonik offers an organized way towards a project and offers a lot to learn in the process.
Themify Builder- WordPress Starter Theme
Themify Builder is a very simplified and vibrant starter theme that provides Builder, Page Builder plugins, frontend and backend edit modes, and a number of pre-defined layouts.
You can easily see a live preview of your website without having to view or enter any code. You can even swear onlookers by using over 60 animated effects to spice up your outlook. That is, there is nothing that prevents your website from running, such as multi-site support and extensible add-ons.
Air- WordPress Starter Theme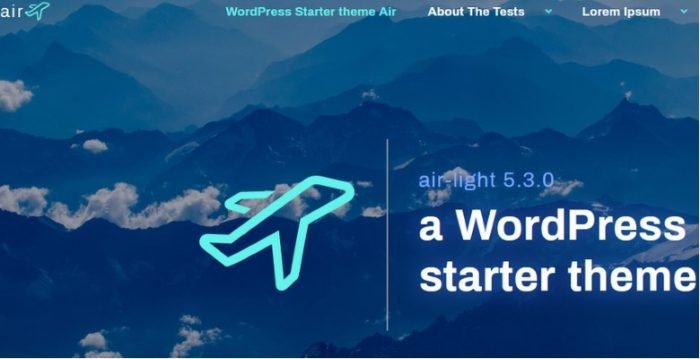 While Underscore provides the developer with the basics, Air helps add bling to your project. It provides a beautiful full screen navigation system, sticky navigation and sliders.
It also helps to disable sidebar/widgets and post formats. You're one less worried because not everyone is a fan of these. However, you can always re-enable it if you want. In addition to being highly customizable, it provides helper plugins, Woo Commerce support, and some other interesting features.
Catch Themes- WordPress Starter Theme
Catch Starter is a free starter WordPress theme for developers.Don't be fooled by the simplicity of this theme as it has advanced options. It provides a safe and standard code base for building your dream website.
Plus, it comes with a responsive layout that works well on any device. You will enjoy the wonderful features that come with the package. These include featured sliders, introductory sections, portfolio sections, webmaster tools, custom widgets and fonts, and more.
Themes are very easy to customize and allow you to focus on your content. The compact, minimal code integrated into Catch Starter makes the code lighter and easier to use. The layout is completely responsive and your website looks perfect on any device.
Nebula- WordPress Starter Theme
Are you looking for a powerful tool to design a website that will impact your business? Nebula is a great starter theme focused on enhancing the web development phase. It provides an uncomplicated code syntax suitable for beginners. Plus, it comes with a clean, minimalist design that lets you bring content into your spotlight.
Quark- WordPress Starter Theme
Quark is the basic building block for creating beautiful and responsive custom themes. This is not a complicated and complex framework and is difficult to learn and change.
This is a simple and elegant starter theme built on HTML5 and CSS3. Its base is a responsive 12-column grid. It includes easy-to-change custom theme options, a set of universal templates, support for WordPress Post Formats, and a gorgeous, retina-friendly Font Awesome icon font.
Conclusion
If you have a large number of well-designed WordPress starter themes available, you don't have to create a theme from scratch.These themes are fully customizable, allowing you to create truly unique designs for your WordPress site without having to build from scratch.

Hope this article helps to find the best WordPress starter theme for developers.If you like this article, please leave a comment below!