Hello everyone, Today we are going to share 30+ Best Validate A Website – HTML Validate. What is Validate A Website – HTML Validate? Validation is the process of checking if the language structure is correct. For those of you familiar with languages such as Java and C++, you have a compiler and at times it may kick out errors & warnings. Validation is undoubtedly one of the most important aspects of best web design. And in a (CMS) like WordPress, you need to be careful about your HTML & CSS both in your theme and your content. In this article, we're going to talk about validating a website – HTML Validate.
So here is the list of 30+ Best Validate A Website – HTML Validate take a look.




Pingdom tools

We built this Website Speed Test to help you analyze the load speed of your websites and learn how to make them faster. It lets you identify what about a web page is fast, slow, too big, what best practices you're not following, and so on. We have tried to make it useful both to experts and novices alike.




Web Page Analyzer – 0.98 – from Website Optimization

Enter a URL below to calculate page size, composition, and download time. The script calculates the size of individual elements and sums up each type of web page component. Based on these page characteristics the script then offers advice on how to improve page load time.




Viewlike

viewlike allows you to check out how your website looks in the most popular resolution formats. It's all powered by Ajax & PHP so no need to download anything! To Get started just type your URL in the box above.




W3C markup validation service

W3C's HTML Markup Validation Service is probably the easiest and the most popular tool available to check and validate your web page.
This validator checks the markup validity of Web documents in HTML, XHTML, SMIL, MathML, etc. If you wish to validate specific content such as RSS/Atom feeds or CSS stylesheets, MobileOK content, or to find broken links, there are other validators and tools available. As an alternative you can also try our non-DTD-based validator.




SeoSiteCheckup

Everything SeoSiteCheckup already has, plus more powerful tools and faster execution. Optimize & monitor your website's performances, and grow your business!




W3C CSS Validation Service

Just like the HTML validation tool, W3C's CSS Validation Service is the most popular CSS validation tool in the web. And like the HTML validator, you can validate your CSS by pasting the URI, uploading a CSS file or pasting your code directly.
If you want to validate your CSS style sheet embedded in an (X)HTML document, you should first check that the (X)HTML you use is valid.




Validating WordPress Feeds

Although it's not very popular, "feed validation" is one of the another important aspect of validation of your website. This is the W3C Feed Validation Service, a free service that checks the syntax of Atom or RSS feeds. The Markup Validation Service is also available if you wish to validate regular Web pages.




Unicorn by W3C

Additionally, there's a noteworthy tool called Unicorn by W3C, which is basically a unified validator. Although it looks like a discontinued open-source application, it still gives satisfying results about HTML, CSS, feed and i18n validation.




jQuery Validation Plugin

This jQuery plugin makes simple clientside form validation easy, whilst still offering plenty of customization options. It makes a good choice if you're building something new from scratch, but also when you're trying to integrate something into an existing application with lots of existing markup.




Themecheck

Themecheck.org is a quick service that lets you verify web themes or templates for security and code quality. This service is free and compatible with WordPress themes and Joomla templates.




ResponsiveTest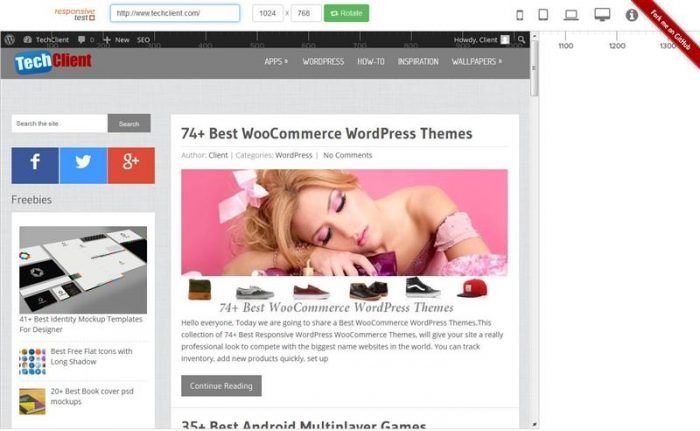 Test responsive layout, powered by AngularJS and Bootstrap 3. If this tool is useful to you.




Free Website Malware and Security Scanner
Enter a URL (ex. techclient.com) and the Sucuri SiteCheck scanner will check the website for known malware, blacklisting status, website errors, and out-of-date software.




Dr. Watson

The good Doctor started working on Internet web pages sometime in the mid-nineties and has been published in quite a few books on web site development. I'd like to thank all of you for your kind words over the years.




w3schools – Validate your HTML, CSS, XHTML (Multi)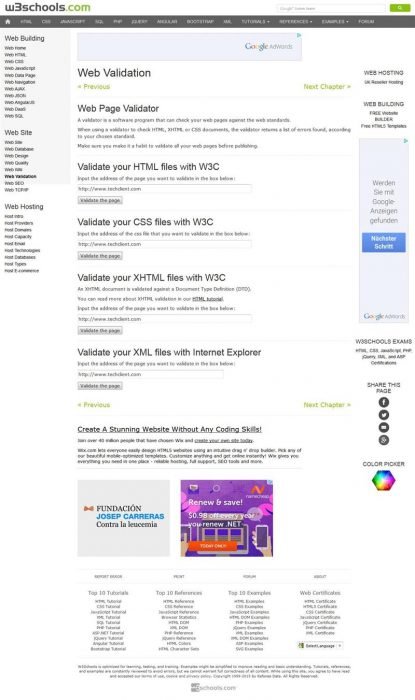 A validator is a software program that can check your web pages against the web standards.
When using a validator to check HTML, XHTML or CSS documents, the validator returns a list of errors found, according to your chosen standard.




Theme Check


The theme check plugin is an easy way to test your theme and make sure it's up to spec with the latest theme review standards. With it, you can run all the same automated testing tools on your theme that WordPress.org uses for theme submissions.




IE NetRenderer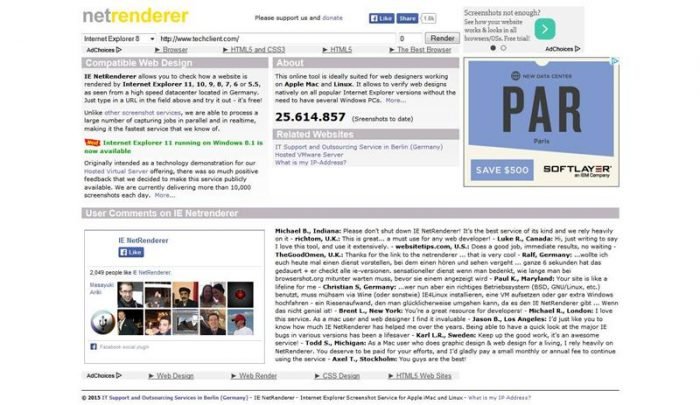 This online tool is ideally suited for web designers working on Apple Mac and Linux. It allows to verify web designs natively on all popular Internet Explorer versions without the need to have several Windows PCs.




PHP code checker
PHP code checker is a completely free service that will not execute or save your code. It performs an analysis line-by-line for common mistakes and errors in your PHP syntax. See the release notes for currently supported features.




Browser Compatibility Test

Browsershots makes screenshots of your web design in different operating systems and browsers. It is a free open-source online web application providing developers a convenient way to test their website's browser compatibility in one place.




Checklink

This Link Checker looks for issues in links, anchors and referenced objects in a Web page, CSS style sheet, or recursively on a whole Web site. For best results, it is recommended to first ensure that the documents checked use Valid (X)HTML Markup and CSS.




Mobile checker
This checker performs various tests on a Web Page to determine its level of mobile-friendliness. The tests are defined in the mobileOK Basic Tests 1.0 specification. A Web Page is mobileOK when it passes all the tests. Please refer to the About page for more details.




HTML Validator

The WDG HTML Validator is similar in many ways to the W3C HTML Validation Service. Most of the previous differences between the two validators have disappeared with recent development of the W3C validator.




XML well checker and validator

Use this form to check an XML document for well-formedness and (optionally) validity. External entity references are included, even when not validating. If the document is well-formed, the parser outputs the corresponding canonical XML.




Robots checker
Robots.txt files (often erroneously called robot.txt, in singular) are created by webmasters to mark (disallow) files and directories of a web site that search engine spiders (and other types of robots) should not access.




URL checker

While it's important to know if your website is running and your host is providing a good service, it's even more important to be proactive about getting it back online fast so you don't lose search engine position, miss out on possible revenue or blow your advertising budget.




Webaccessibility checker

This tool checks single HTML pages for conformance with accessibility standards to ensure the content can be accessed by everyone. See the Handbook link to the upper right for more about the Web Accessibility Checker.




Color contrast
AccessColor tests the color contrast and color brightness between the foreground and background of all elements in the DOM to make sure that the contrast is high enough for people with visual impairments.




Web accessibily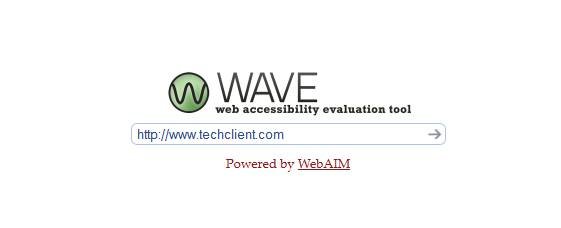 WAVE is a free web accessibility evaluation tool provided by WebAIM. It is used to aid humans in the web accessibility evaluation process.




FAE – Functional Accessibility

Use this tool to evaluate the functional accessibility of a single web page. It evaluate multiple pages via web crawling,Generate a Sitewide Report that identifies problem pages,Save reports in an account-specific Archived Reports list.




Testing Accessibility with Style
HERA is a tool to check the accessibility of Web pages accoridng to the specification Web Content Accessibility Guidelines(WCAG 1.0). HERA performs a preliminary set of tests on the page and identifies any automatically detectable errors or checkpoints met, and which checkpoints need further manual verification.




HTML Validation Pro


HTML Validation Pro just realized how awful one of my sites was because I made it in a hurry and didn't have spellcheck turned on in my editor.




Validation Services for your HTML / XHTML / WML

Validome allows Web Publishers to check their syntax with a reliable, high-speed validation service, in accordance to current official Standards. Valid code is very helpful, in order to avoid problems with different browsers and releases. A simple visual check of your site does not conform any more to modern webdesign and generally accepted technical requirements.




FREE HTML & CSS Validation Service


FREE HTML & CSS Validation Service – Check your HTML/XHTML and CSS, including HTML5. Powerful & easy to use.




Have something to add to this story? Share it in the comments.