Multan is a major city in Pakistan and is famous for its rich culture. Sufi shrines, historic sites, delicious food, Ajrak and amazing shopping malls.
If you are from Multan and also happen to be a shopaholic you have found the right blog.
See Also: Top 11 Malls in Lahore
This blog contains a list of Multan's best shopping malls.
1. Mall of Multan
The Mall of Multan was the first mall in our list. This mall is also known for its pioneering role in modern shopping. Multan's Mall of Multan boasts more than 2100,000 square feet of constructed area. The Mall of Multan is more than a shopping mall. It also hosts a wide range of entertainment and recreational activities.
It features a wide range of offerings, including Retail Shops and Gold Standard CineStar, Playland as well as Food Courts, Top Restaurants, Supermarkets, Supermarkets, and Food Courts.
Mall of Multan is built over eight Kanals and twelve marlas of property. It has a built-up area of approximately 220000 sq.ft. Many of the world's most renowned brands are represented in the mall including Minnie Minors and Leisure club, Ethnic, Al-Karam Outfitters, Sana safinaz Sana safinaz Sapphire, Nike, Khadi.
Some of these amenities and services are offered by the mall:
Centrally air-conditioned
Armed indoor & outdoor Security, CCTV system, smoke Alarm system.
24 hour power reserve
Item Description
Contact – (061) 6522480
Address – Bosan Rd, Shalimar Colony, Multan, Punjab
2. United Mall Gulgasht Multan
The United Mall Gulgasht Multan follows next on our shopping list. This mall, which is medium in size, houses many famous brands, including Khaadi (Nishat Linen), Gul Ahmad, and so on.
A food court is also available at the mall, which houses all the famous brands of apparel.
Multan's best place to buy apparel, shoes, or accessories is Multan.
United Mall Gulgashtmultan has the right place.
United Mall Gulgasht Multan
Address: Peer Khurshid Colony Chah Usman Wala, Multan, Punjab
Multan boasts a number of hotels that are well-known for their high-quality services.
Addr
Item Description
Contact NA
Address – Peer Khurshid Colony Chah Usman Wala, Multan, Punjab
3. The United Mall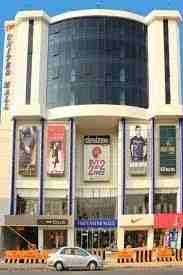 The United Mall was designed to be a living space that meets international standards, where people of all ages can spend quality time together in an environment that is both safe and peaceful.
United Mall was created to be a hub for major retailers, food chains, coffee shops as well ice cream parlors and kids' adventure areas.
Some of the features found in the mall include the following:
Bulk supply directly at the grid station.
Different floors have different prayer areas.
The building comes equipped with a fire detection alarm, fire extinguishers, and firehoses on each floor, all with pressure pumps.
Different levels of customers can use the smoking area.
For monitoring the premises, a 24 hour security system is installed with CCTV (Close Circuit TV System).
Wi-Fi Internet Service is Free on the Upper Ground, Food Court Area.
Parking is available in ample quantities on the premises, which can hold 400 cars at a time.
Item Description
Contact – (061) 4500100
Address – 74 Abdali Rd, Bukhari Colony, Multan, Punjab 60000
4. The Grand
Multan's most vibrant, accessible, convenient and popular shopping and entertainment location is The Grand. It is a shopping centre, but it also offers entertainment.
Grand shopping mall brings together 3D Cinemas. Food Courts. Finest Fashion Stores. Global brands. Luxury boutiques. Coffee Shops. And all the designer and lifestyle goods you could want under one roof. It is a unique business location for any modern urban outlet. Grand Mall is made up of 17 canals. There are 4.5 canals, and more than 300 parking spaces.
These are the best-known shopping malls in Multan. These shopping malls are great for people who like to shop top brands from around the world.
Item Description
Contact – (061) 111 111 770
Address – Noor Blvd, Buch Villas, Multan, Punjab
5. Chase Up Multan
Chase Up multan was a huge success and the owner of the business decided to open another branch. The branch opened in multan in October 2014, making it the largest city store. Chase Up multan offers amazing prices and is located under one roof. It is the city's largest shopping centre. It is spread over four floors with different categories on each floor. You will find fresh meat, fruits, and veggies on the ground floor.
On the first floor, a vast selection of cosmetics is displayed. This is where you can shop for any kind of garment. There are also crockery displays and artificial jewels. Everybody loves the Ladies' Dress Collection. There are many newborn items available in the baby category. All of these items can be bought wholesale.
Item Description
Contact – NA
Address – Bosan Road، Education Avenue, North Gulgasht Colony, Multan, Punjab
6. Centro Plaza Shopping Mall
Centro Plaza is located at Centro Plaza Musa Wala Multan. It is more than just a mall. It also features a playland and a bowling alley. You can enjoy the wonderful experience of indoor shopping. It caters to all ages. It is also known as one of the top food trendsetters in the area. The mall offers multiple experiences under one roof. Misaq ul mall has a pleasant environment. There are electric escalators in the lobbies and plenty of parking. Each floor is different.
Item Description
Contact – 0333 6228175
Address – Centro Plaza, Musa Wala, Multan, Punjab 60000
Not the type of mall you were looking? Let us know in our comments section. We will be happy to help.