Facebook Timeline Cover Scripts
Facebook Timeline Cover Scripts
Facebook Cover script you organize and share your photos on Facebook that lets cover a complete solution, Collage friends, family is covered and make money from advertising. Users upload their own photo collage covers covers can share and variety. Visitors can click a button, directly from your web site can change the cover of their Facebook Facebook API uses it.
See Also :  Facebook Cover Script
Screenshot: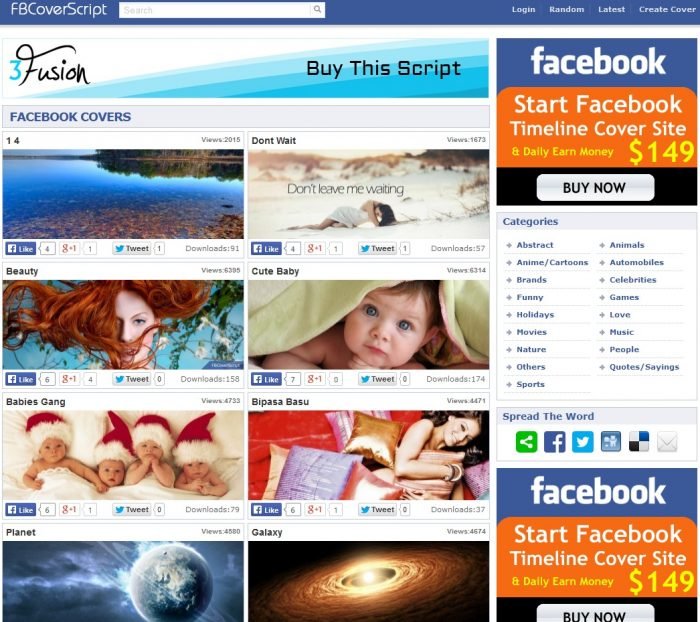 Script Features
Admin Panel
Manage Cover Categories
Add multiple covers at once
Get details of all user who join Your Facebook Apps
Approve/Disapprove User submited Covers
Add Custom Template for Collage Cover
Manage Advertisement
Manage Pages
Inbuilt ShareThis social widget
Watermark settings
Adsense Ready
Google Analytics Code etc.
Google Sitemap Generator
Move Covers to other category
Drop & drage uploader
User Feature
User can create own covers and customize with some cool effects, resize etc.
Inbuilt Facebook Like, Tweet and Google+ and share with Social Widget
Browse covers by categories
Random covers
Powerfull Search
Create Different Types of Collage Covers
Directly Upload Cover to Their Profile etc.
Server requirements
PHP 5.x , MySql 4.x or 5.x
PHP GD Image Library
Mod Rewrite Enabled
Curl, Fopen Enabled
Apache 2.0 or above
Have something to add to this article ? Share it in the comments.