Bitmoji's are a great tool for almost everything. There are many ways that Bitmoji can be used in the classroom. You can create interactive Bitmoji classroom scenes or use Bitmoji's with different checkins. Bitmoji stickers make it easy and fun to create.
See Also: Gmail Skills For Google Certified Educator Level 1
Google Drawings allows you to easily create Bitmoji stickers that can be used for feedback in your classroom. Choose the size template you wish to use (we recommend the 300 x 300px or 3 x 3inch size), then create a background for your sticker (i.e. You can drag and drop your Bitmoji over the template by creating a square or circle. You can download your stickers as PNG files and add them to your student work.
How to make Bitmoji stickers easily using Google Drawings
Personal Bitmoji stickers add an extra personal touch to student feedback. It is a great way of establishing your teacher presence and helping to build community in your class. Check out these 10 great activities to help build community.
Let's take a look at how to create your Bitmoji stickers. You can watch the video below and follow the detailed instructions to get started.
Get Started With Bitmoji
This is the best place to begin if you have not yet created your Bitmoji. The app must be downloaded on your mobile device. Bitmoji apps are available for iOS in the Apple App Store, and Android in Google Play Store.
Get Bitmoji on Google Play Store and Apple App Store
Once you have downloaded the app, sign up for an account and follow the steps to create Bitmoji. Have fun! You can customize your Bitmoji's appearance with so many options.
The Bitmoji Chrome Extension can be added
To create stickers quickly and easily, you will need to add Bitmoji Chrome extension. Visit the Chrome Store to get the Chrome Extension. Select the blue button "Add to Chrome". Select "Add extension" to install your extension. You can log in to Bitmoji and access your Bitmojis directly from Chrome.
Installing Bitmoji Extension from the Chrome Store
First, pin the Bitmoji extension to your taskbar to get access to your Bitmojis. Click on the image that looks like a puzzle piece to open the Bitmoji extension. Make sure to click the pin beside it to pin to your taskbar!
Pin your Bitmoji Chrome Extension to your Google Chrome task bar
Steps for creating your Bitmoji stickers in Google Drawings
Let's get started! Once your Bitmoji extension is set up and ready for use, you can begin creating your Bitmoji stickers. Let's look at the simple steps to make them.
1. Make a new Google Drawing
First, create a new Google Drawing. Google Drawings is a great way to create Bitmoji stickers. They are easy to use, quick to create and can be used to make multiple stickers from one template.
To create a new drawing, click on "New" within your Google Drive. Scroll down to select "More", after which you can select "Google Drawings". Or, you can type drawing.new/drawings.new directly into the Chrome address bar. It will create a brand new Google Drawings. Although we love this shortcut, it can quickly make your Google Drive a chaotic mess.
How to create a new Google Drawing in Drive
2. Name your new Google Drawing
Once your new Drawing is open, you can give the file a title by clicking on the box at the top that says "Untitled Drawing". You can also type your name here.
We suggest that you create a consistent name system for your stickers. Something like "Bitmoji Sticker Description", where the description is a few words or phrases to describe the sticker image. To organize all of your amazing stickers, it might be worth creating a folder within Google Drive.
3. Change the dimensions of your Google Drawing canvas
Google Drawings default to a standard size of 4:3 at the beginning. Your drawing area is initially set to 10×7.5in or 960x720px. This is way too big to use as a sticker. This means that you'll have to alter the canvas size in order to create the Bitmoji stickers of perfect size.
To adjust the size of your canvas navigate to "File", then "Page setup". The standard 4:3 option will be displayed. Click on the dropdown menu, and choose "Custom". The custom menu allows you to change the size of your canvas to any dimensions you wish. We suggest you limit your canvas size to 3 x 3. If you prefer to work in pixels, choose 300 x 300 or 400×400 px.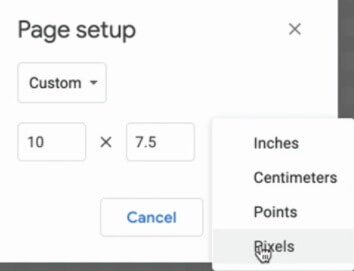 Change the dimensions of a Google Drawing canvas
Once you've resized the canvas, it will not look much different. Google Drawings zooms in automatically to fit your screen. You can get a better idea what the sticker will look like by going to the zoom tool dropdown and selecting 100%. This will give you an idea of the size of your final sticker. This is a bit too small for us to work with, so we recommend zooming back in using this dropdown menu.
4. Give your Drawing a new shape
Now let's have some fun! Let's make your drawing the background of your sticker. While there are many options, we suggest you stick to a basic circle shape as your first sticker. Once you are comfortable with the process of creating stickers, you can explore the different shapes and make your own!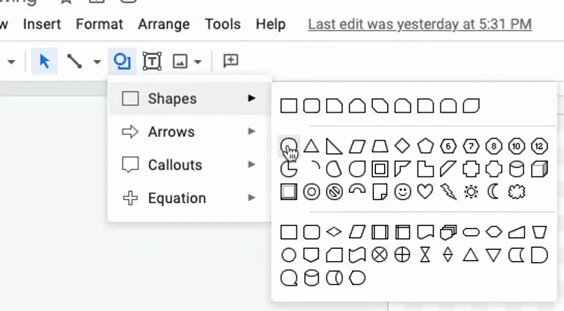 There are several ways to add your own shape to your drawing. You can either use the "Insert", select "Shape", and then click "Shapes." The circle is located at the beginning of the row. Alternativly, you can choose the Shapes tool directly from the toolbar. This saves you several steps.
Google Drawings: How to add and center circles in Google Drawings
Once you have selected the circle shape you want, choose a starting point and drag it to your desired size. For maximum size, start in the upper left corner. Drag down to the bottom right corner. To ensure a perfect circle, hold down the "Shift" key while you're dragging your shape.
5. Your Bitmoji background shape
Now you can make your circle look more like a sticker. Click on your circle, then click the "Fill Color", to change the desired colour. Google Drawings comes with a lot of preset colors, but you can also pick a custom colour if that is what you want. A gradient adds dimension to your stickers. Enjoy this moment!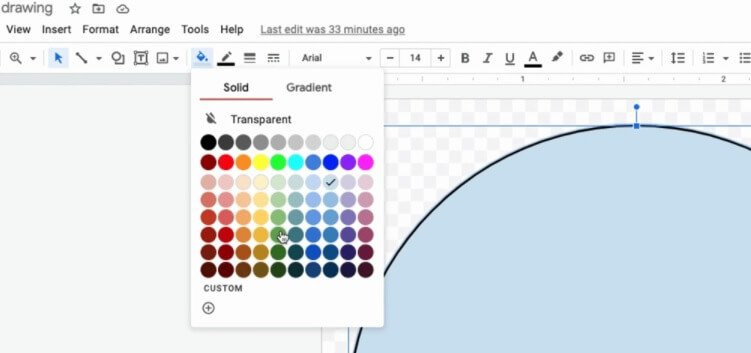 One tip we recommend for choosing colours is to use a website like Material Design Colors, or if you want to match a particular colour, to grab the hex code by using the ColorPick Eyedropper Chrome Extension. This second option is great because you can pick a colour right from Bitmoji and match it. This allows you to create a cohesive sticker.

After you've chosen your background colour, you can also remove the outline from the circle by clicking the "Border Color" button and choosing "Transparent".
Google Drawings: Formatting a Shape
You can also add some dimension to your Bitmoji stickers with a dropshadow. You can add a drop shadow to your Bitmoji stickers by visiting the "Format Options" menu, and clicking on the "Drop Shadow" option. To customize the appearance and feel of your dropshadow, you can play around with the settings found in the dropdown area.
6. Use Bitmoji Chrome Extension to search for your extension
Next, go to Bitmoji Chrome Extension and search for the perfect Bitmoji. Click on the Bitmoji Chrome Extension and type a keyword into its search toolbar. Then, you can choose the Bitmoji which you wish to use.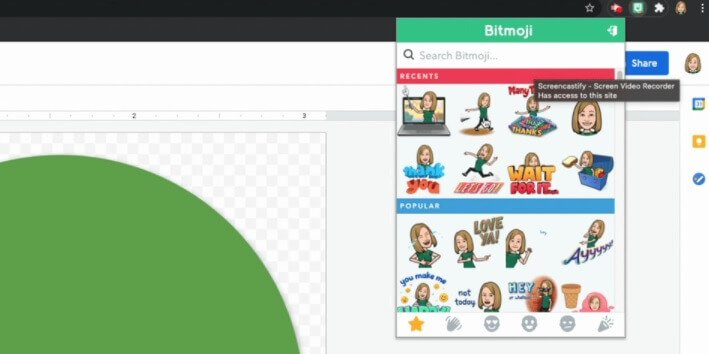 Add your Bitmojis to Google drawings
Once you have found the perfect Bitmoji, you can drag and drop it onto your Google Drawing. The Bitmoji will generate a large image. You can adjust its size by selecting one of the corners to shrink it. The center of the sticker design will be needed so drag it to your canvas until both red lines are visible. These guides can be very helpful because they let you know when you have reached the centre of your design.
7. Get your Bitmoji sticker in a PNG file
At this point, you are almost done! To use your Bitmoji stickers, you will need to download them. We recommend downloading your sticker as an PNG file. This will give you a transparent background.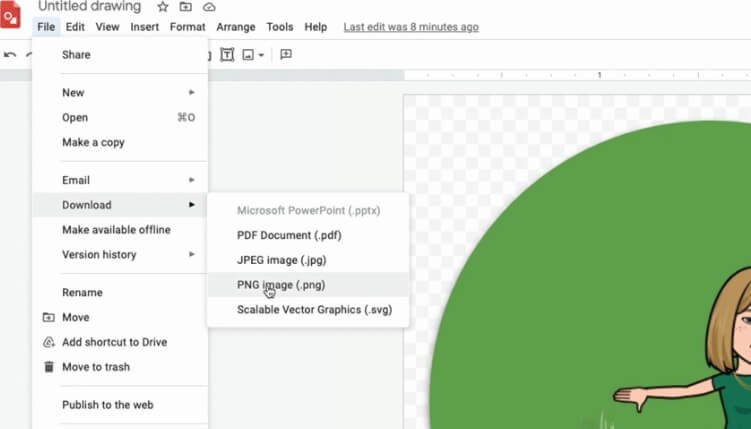 Click on "File", then click on "Download", and finally select "PNG image (.png). This will initiate the download to your computer. There are two options: You can create a folder to store your stickers on your desktop or you can upload them all into Google Drive and arrange them there. We love the desktop option as it makes it very easy to add Bitmoji stickers for student work.
8. Use your Bitmoji stickers for student work
Google Workspace is the best place to add Bitmoji stickers for student work. Students enjoy completing assignments in Google Slides. Bitmoji stickers integrate seamlessly with this app.
Simply drag and drop your Bitmoji stickers in the Google Slides document that you have open for student work. It's easy to move the sticker where you like it best, and because you have it as a PNG picture, you don't need to worry about background.
We suggest that you add a comment to your sticker if you want to get things a little more balanced. Click on the sticker, right-click and choose "Comment". Or you can use the cmd/ctrl+option/alt+ M keyboard shortcut. There you can enter your comments. Alternativly, you can add audio or video to your comment with the Mote extension. Screencastify is an option. You will need to record the screencast first, then add the sharing hyperlink to your comment in the student work.
To create more Bitmoji stickers, use your First Bitmoji sticker now!
It's easy to create more stickers once you've made your first one. You can simply make another sticker by going to File, then "Make a Copie", and adjust the Bitmoji and colours for your new sticker. Repeat the process for each new sticker you make. You'll soon have a great collection that you can personalize with student feedback.
We want to see your sticker creations. Send them to us via social media, and don't forget to tag us!