Being a blogger entails a significant amount of marketing. If you want to reach more people and aid them with your knowledge and skills, you can't overlook the importance of promoting yourself.
A blog is a fantastic method to get your material out there, interact with your audience, and bring traffic back to your site. There are several tools available to assist you in your endeavour.
We'll go through 8 amazing tools for social media scheduling and sharing, as well as research, reporting, and analytics.
1⦁ Wix Blog Title Generator
A fantastic tool for coming up with interesting titles for your posts is the Wix Blog Title Generator. Don't underestimate the power of a good title. Remember – the title is the first thing people see and it is what determines whether they will read the post. A catchy and enticing title will bring in more views than a generic boring one.
The best part of this blog title generator is that when you enter your keywords, Wix will provide you with up to 100 title ideas!
2⦁ Hootsuite
You can plan your social media posts ahead of time and manage them all in one place using Hootsuite. If people comment on your postings on any channel, the messages are collected in one inbox, making it simple for you to answer. Hootsuite is available for a free 30-day trial. Then upgrade to a premium plan starting at $19 per month or stick with the free version, which lets you manage up to three social network profiles.
3⦁ Hemingway App
This program analyzes your writing and points out problems that hinder your prose from being as strong as Hemingway's. The Readability score drops as you make adjustments (which is a good thing), encouraging you to strive for perfection. Don't conjure up images of Microsoft Word's mediocre grammar checker. Hemingway Editor is focused and transparent. It's dead easy – and a lot of fun.
4⦁ Canva
With the Canva tool, graphic designers and amateurs alike can create professional graphics. Use one of their tens of thousands of templates and graphics or create your own based on your company's identity. You may use Canva to make images for blog posts and emails, as well as website images and social media postings. You may use it alone or with others.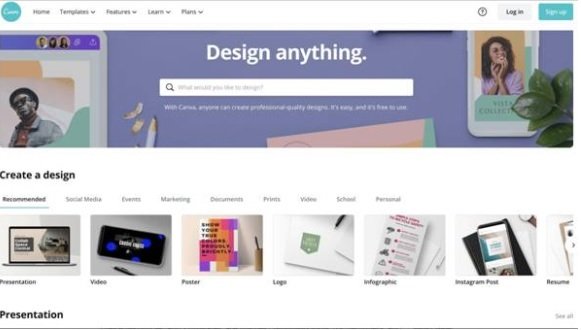 5⦁ Socialbakers
Socialbakers has many analytics tools. You may, for example, compare the results of your Facebook page or Instagram profile to those of other companies and bloggers. You may also see which kind of content works best on Facebook based on keywords and sectors. This should provide you with plenty of ideas for your own material as well as making finding influencers in your industry to approach and collaborate with a lot simpler.
6⦁ Trello
This blogging tool is essential for bloggers who produce a big volume of material or who collaborate in groups. Trello is a project management application that focuses on streamlining your workflow. Bloggers aren't aware that Trello may be used to construct a blogging editorial calendar. To get started, here's a template you may use. Trello is a great tool for writers who need to stay organized, therefore it's worth adding to your list of blogging tools.

7⦁ Quora
If you're stuck for ideas, check out the Q&A section of the website. You may identify frequent questions that your audience has and respond to them in a blog article. When you're an active member and answer questions yourself, Quora may be a great way to meet new people.
8⦁ Yoast SEO
A Yoast SEO plugin may be readily installed on a WordPress website. This tool assists you in ensuring that your language is SEO-friendly and provides detailed instructions for correcting SEO errors. It features a simple green, orange, and red-light scheme that is easy to grasp. Your article is ready to run after you've received the green light! The premium package includes capabilities such as alerting you when your material is out of date and allowing you to search for keywords directly in the Yoast platform.
SEO is one of the most important forms of marketing for bloggers, because if you get your posts to rank on Google, it will increase your traffic significantly and your blog will grow. It is worth investing in an SEO tool and taking time to learn about SEO.
These are our thoughts…
You've worked hard for hours on a smart blog article. It would be a pity if your message didn't reach the individuals who needed to hear it the most.
These 8 tools can assist you in creating a blog that is both relevant and appealing to your target audience. It's simpler than ever to offer outstanding content to audiences throughout the web, thanks to the wonderful tools that corporations have put out for bloggers.