This time we'll talk about the top 18 apps Ideas for restaurants in 2021. If you're the owner of a restaurant and are thinking of digitalizing your restaurant by the launch of a food ordering application for your restaurant as it will also increase the profit you make, then you're in the right place since this article will focus on the idea of having a food ordering apps.
It is advantageous to create a Food ordering app idea for your restaurant?
Today, people are raving about apps that are used for all kinds of services, including food-related services. Utilizing apps is simple and efficient. In addition, restaurants are offering apps to their client to boost sales.
In our fast-paced world, it is easy to be in the midst of technology. It could be from checking the latest fashions to ordering food at our favorite restaurants It is a technology that makes everything possible.
While it's already been 27 years that the very first smartphones were released, however, it's only in the last few years that businesses and corporations have started developing specific apps to offer their customers high-quality services.
One industry that is growing rapidly that is a target of application development includes the industry of food. Since more and more people are working in 9-5 positions and are consequently spending less time with household chores. This means that the use of online services, and specifically the delivery of food is growing steadily.
Generation Y is looking for quick and efficient delivery of food options. The main factors that contribute to the growing popularity of food delivery include high quality, flavor, and cost-efficiency. According to a report published in Forbes magazine, UBS(a Swiss finance firm) predicted that delivery sales will grow by more than 20% , to $365 billion globally by 2030, up from $35 billion. The increasing use of Food apps has brought more customers to private franchises and restaurants.
According to the facts and numbers, launching an app for restaurant is extremely profitable for company.
According to the study, the survey shows that greater than 2.72 billion people use smartphones.
The number of digital orders has grown 300 percent faster than the number of diners.
74% of restaurants agree that the use of technology has enhanced their appearance for guests.
95 percent of restaurant owners believe that technology has increased the efficiency of their operations.
After analyzing the data and figures you can decide the necessity of creating app ideas for your restaurant that help to increase referrals and also generating more revenue.
This article will be beneficial for you to discover a range of app concepts about app for ordering food, that you could use at your restaurant to provide better service to your customers and keep them satisfied since they're more comfortable using apps rather than wait for waiters or order because they have more choices in the app. It can be time-saving for the restaurant's owner as well as the customer.
Type of Food Applications In The Market
Food applications are generally classified into three categories. The usage of certain kinds of food apps varies in the structure of the company as well as the type of services that it would like to provide through these apps. The following are three categories:
Delivery-service aggregator
New delivery or ride-hailing apps, as well as food delivery apps
Food delivery apps with full-stacks
Delivering service providers are apps from third parties that connect local eateries with customers. These apps serve as intermediaries and collect fees, commissions, and profits from restaurants. Restaurants are also paying for these apps to be included on their apps. The most popular examples of these apps are Food panda and Grub hub.
Food delivery apps that ride-hailing are applications that deliver food, thus connecting restaurants with their customers. The apps let users browse menus and make use of certain discounts and promotions to pay. In general, these apps take care of the logistics or delivery that comes with the purchase. Cloud kitchens and small-sized restaurants are the most beneficial of these apps since they don't have concerns about the distribution of their food items. Examples include Zomato and Swiggy.
Food delivery applications that are FullStack differ from delivery apps and Ride-hailing applications. Full Stack apps come with their own kitchens, menus, and delivery systems which act as a single-stop shop to place an order for food. Similar to Ritchie and Ritchie, which is a full-service meal delivery application that is accessible in France. Beyond these apps there are five more kinds of apps:
Food ordering customized to your specifications App Idea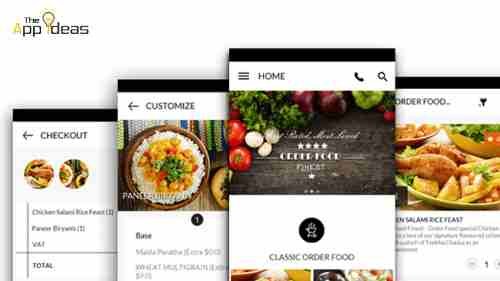 This type of App Ideas Food Ordering App is used only for food ordering. This type of app can only be used by your waiter to accept orders from customers and maintain the order record to bill.
What's the process behind this application? What are the benefits of this app?
This app is utilized by the waiter at the restaurant to take orders and also to take orders, which reduces paperwork. It is also beneficial because the paper is easily lost, but if you're keeping the record of the order on your smartphone, there are fewer chances of losing the information. The app will easily reduce human error.
Restaurant locator apps
Restaurant locator apps allow people to find restaurants in specific areas and offer menus as well as reviews and ratings for restaurants.
Pizza delivery App Idea
We all know that Pizza is one of the most loved and mouthwatering meals. This type of application is utilized by the Pizza restaurant. This means that without going to the restaurant, customers can select their preferred pizza, purchase it, and pay for a meal by using different payment methods.
By offering this type of ordering application to your customer's restaurant owners could increase the number of customers. Why? because customers are comfortable since they will receive their favorite pizza delivered right to their doorstep. Additionally, it's safe to utilize an app for ordering pizza.
If you own an app for food orders (Pizza ordering application) and delivery services, there are two options available to you: it is possible to provide this service to your customers through your own company or another alternative is to work with a third party to provide services to the client.
Table booking applications
These apples assist customers to reserve tables at certain eateries to avoid crowds and get discounts. The most popular examples are Easydiner as well as Dine Out.
Grocery Delivery Apps
According to Statista according to Statista, the average customer shops at the supermarket 1.6 times a week , and is spending about 60 hours per year in the store.
It is possible to create an supermarket shopping and delivery app which allows customers to find local delivery services in the supermarket. This is possible with the help of RTLS (Real-Time Locating Systems) which allow delivery by door.
Food ordering customized to your specifications App Idea
This type of App Ideas Food Ordering App is used only for food ordering. This type of app can only be used by your waiter to accept orders from customers and maintain the order record to bill.
Food Coupons and Discount Apps
It's a unique concept of a culinary app, which offers many opportunities for growth and rapid growth of users. The app will notify users when restaurants has an amazing deal or vouchers to eat for free are on offer. Restaurants advertise themselves all year long, and often food is sold for half price in order to attract new customers.
But, many people are in the dark and don't take advantage of these delicious discounts. This is the reason why a food coupon app or discount benefits as well the industry of food as well as its customers.
Delivery apps for tracking
These types of apps permit restaurants to monitor the delivery charge by knowing their current location for speedy delivery.
Table reservation applications
The app is comfortable and helps save time for customers, and the owner of the restaurant will be content to handle their customers' orders more accurately and improves user experience. Restaurant employees will be given the right time to prepare the food, and the owner will be able to operate his business from less space as well.
Snacks Delivery App Idea
This type of app is used by small-scale restaurant owners who provide snacks for their customers. This type of app is used by the client for the ordering of food items from any location or from any location.
Sometimes, this service is accessible 24 hours a day. Are you operating an eatery? If so, this application is right for you. using it you can increase the profits you earn.
The app assists you in getting more customers to see the service as convenient since it makes it simple for them to purchase snacks online anytime anywhere. With the application, you are able to connect with more customers via digital.
App to place orders for food in in advance
Similar to reserving tables in advance, this type of software is used to purchase food ahead and the reservation of tables.
The restaurant may also offer an option for customers to choose a meal. For instance, if they are looking to reserve a table for dinner, they could also select and order food in the course of making reservations for tables.
The food ordering application helps restaurant owners to prepare for the need since they know what they will need for coming orders. Customers are also happy since they don't need to spend time selecting food options.
Food Delivery App Idea
This kind of application is utilized for the delivery of food items. Customers can use it as the only way to ensure that they will receive their delicious food delivered to their doorstep, by simply allowing their address to be included in the application
What about the owners? There are two types of restaurants that can use this kind of app.
1)Let look at the First type : the restaurant has the app as well, meaning you can order food, and they can also offer the delivery service to their customers as they have separate staff members to handle these services.
2)The second kind of restaurant is one that only has the app that allows food ordering They don't offer the delivery service as they don't have additional staff to handle delivery. What are they doing? What are they doing to handle this?
Let me clarify, as they contract with a third party to handle the delivery service, they can take the order and deliver it to customers at the right time. When a restaurant of this kind receives an order, they inform their third party who provides them with delivery services to the customers.
Food & Nutrition app for Gym Lover App Idea
Food and fitness fan app with details on diets and meal plan to lose weight and for also gaining weight.
If you run a restaurant or food court for those who love gyms, This app will surely help to expand your business while increasing sales by contacting people through the app on the internet or food ordering application. Customers appreciate the convenience of using the app, and when they follow a diet, they are also able to order the foods that you want according to your eating habits.
This type of app comes with an additional section based on the needs of customers such as protein foods and crab food, for instance. The restaurant also offers an app to increase the number of visitors.
Restaurant Deal and Coupon App App Idea
As a restaurant proprietor It is essential to keep the customers you have already served and maintain the relationship But how do you do this?
To do this, as an owner, you may offer an app to offer coupons or free discount to your customers. With the help of the app, they can avail a discounts or deals on their purchases. Because customers are attracted by the offer or coupon to take advantage of it.
Homemade cook App Idea
A cook app that is homemade is a restaurant app, and your restaurant cannot be included in this app. If you're new on the marketplace and you want to draw more interest in your establishment or get more people to your app. You can offer your own cooking application to your customers through which your chef will be able to connect with them, and they can master cooking at their your own kitchen.
Burger and Pizza Constructor App Idea
This kind of app concept can be beneficial to Burger/Pizza Fastorant owners. With this app, customers can choose their favorite Burger or Pizza that is to their preference. Offering these kinds of applications to customers can help you to generate more leads.
What is the process by which this kind of order-to-eat App Ideas functions?
This App Idea allows your client to build your pizza, burger or other food item using the hamburger and pizza Constructor application. The customer can make an easy selection of the ingredients and build each food product from the bottom to the top, according to their preference.
Programs to reward loyalty and promotions
They aid in advertising and also provide coupons to discount. Additionally, they offer attractive deals at certain restaurants.
Restaurant Table Reservation App
Everyone wants to avoid losing valuable customers in the rush of the weekend, isn't it? The idea of a table reservation app is ideal for restaurants because it provides smooth operation and excellent service for all customers. The restaurant app can make your food ordering options more sophisticated and elegant than the competition.
It is important to understand what a mobile application for your restaurant could be beneficial as it will help your customers reserve tables, a date, time slot, and the food they like and ensure that your service will be at the time. Customers are delighted with the service provided by the restaurant. One of the most beneficial aspects of establishing a restaurant reservation application is the fact that it streamlines the day-to-day chores, allowing the owner to consider other possibilities for expansion of the business.
Coffee and Snacks ordering (for cafe restaurants)
This kind of food app concept is intended for cafe owners.
Customers in the café need go to the store to make their way to the counter to order. Once they have placed their placing an order, they have to wait to be served, which is a complete waste of time.
To speed up the process owner convenience, they can provide customers with an app in which they can place orders for food. When they place an order the food, an order code is assigned to the customer. Once their order is ready, they will receive a confirmation that allows them to take the order to the counter. This kind of ordering application makes their job simpler.
Food apps are being developed.
The growing number of restaurants' sales along with an expanding number of customers is forcing restaurants and other businesses that are rated for food to rethink their business strategies. Restaurant owners as well as small eateries are now looking to develop specific apps that they are outsourcing development of their apps and thereby increasing the revenues for mobile apps development companies.
According to Forbes the food delivery industry is predicted to surpass $200 billion threshold soon and this is a great opportunity to show the immense potential that the market holds.
Food giants with a name in the industry like Dominos, Pizza Hut, KFC along with Burger King also have individual restaurants mobile apps, which offer special discounts on their items to their customers. The Google reviews for the Dominos app states that the app is fantastic! You can earn points towards a free pizza when you spend more than $10 IRC, which makes the process, without having to talk to anyone until the food is delivered to your doorstep. You can even be automatically registered to win free food! The two times I've won and I'm sure this isn't a flimsy claim. If you're eating at Domino's I'd like to encourage you to download this app!
The Future of Food Applications
Nigel Travis, CEO of Dunkin' Brands, said that "I believe the millennial generation is more demanding than previous generations. "Thus it's no surprise that the millennial generation has become the primary users of food-related apps. Additionally, a study of 2,000 millennials commissioned by the plant-based food business Sweet Earth Foods revealed that each year they spend an average of $2,242 shopping at the supermarket and $1,672 eating out. This adds about 1140 hours of food-related time (which is time spent cooking, meal prep, and dining out).
The latest delivery platforms are creating huge sales for restaurant owners and those who run small food companies. ordering via Twitter, virtual assistants, and smartwatches are also becoming a reality due to the development of technology. Food Delivery has been given a contemporary approach, with the latest fashion of delivery via Parachutes and drones. For example, Melbourne's very first floating restaurant lets customers order toasties using PayPal. Customers are required to stand at a drop-off point that is marked with an X at the moment when delivery is scheduled and then pick up their order.
Conclusion
There are definitely more innovative and trending food apps in creating an eatery or food startup business. If you're looking to learn more about how a startup application concept could be a great way to launch an innovative food-related business, you could easily use it in the cases that were mentioned earlier.
It is, therefore, possible to conclude that mobile apps for food have an enormous potential for the future for a country such as India with its increasing population and changing lifestyles. increasing numbers of people prefer to take food orders instead of cooking it themselves. There are many food-related businesses and restaurants that depend on mobile apps to help with technological advancements as well as new and fresh concepts. This is a huge opportunity to app developers who develop mobile apps.